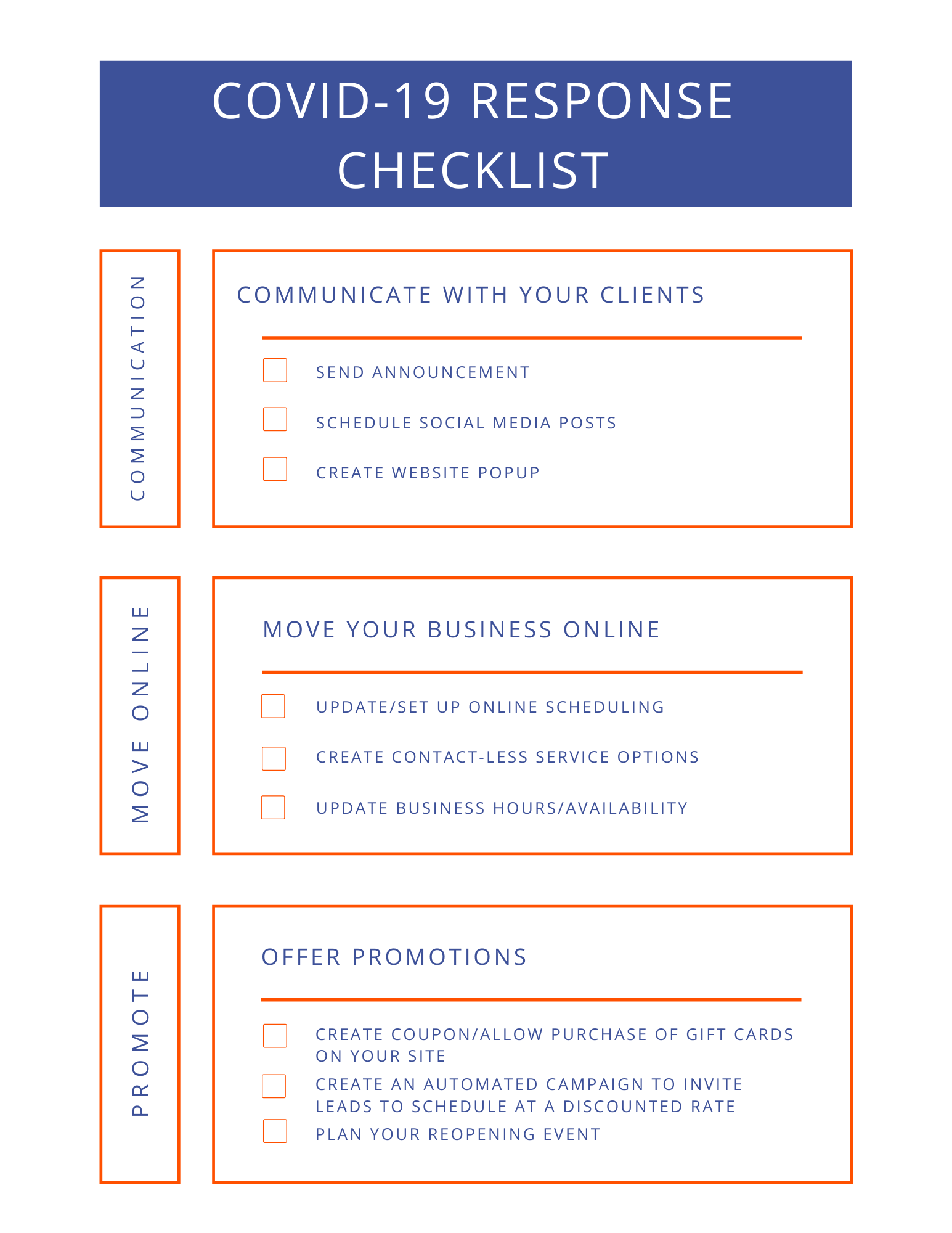 Communication
Send Announcement-Send your business' response to how you're handling the pandemic through an announcement. To help you get started we have compiled a list of industry-related announcements to choose from. See those here. (P.S. Didn't find what you are looking for? Comment below! We'd be happy to help).
Schedule Social Media Posts-Everyone is getting some of the same messages from businesses that are needed and make customers feel cared about. BUT, use these platforms to engage with your clients in a more personable way. Most people are at home and social media is their only outlet so do not feel afraid to post something light-hearted, funny or just some positive messages out for your customers.
Create Website Popup-Use a website popup to let your clients know how your hours or availability have changed. We've created a step by step guide on how you can create one here.
Move Online
Update/Setup Online Scheduling-Update or set up your online scheduling to adjust to your business needs. Some clients may need to cancel their appointments due to health concerns rather than letting them cancel offer for clients to be able to reschedule online. This setting can be turned on under Settings -> Online Booking Options.
Create Contactless Options- Find ways to offer your services without coming in contact with your customers. For example, Jiffy Lube has provided to fix cars without even having customers leave their cars. With Thryv you can provide contact-less services by offering online consultations
Update Business Hours/Availability- Have your business hours changed? Are you offering the first hour for the elderly to shop? Be sure to update all of your business hours and availability under Settings->Listing Settings inside of your Thryv.
Promote
Create Coupon/Allow Purchase of Gift Cards On Your Site-If you operate a service-based business like a restaurant or a salon, you may want to consider offering online sales of gift certificates. Encourage your customers to buy a certificate now, so they can treat themselves and redeem it when the virus outbreak has slowed and their self-quarantine period is over. This can help maintain sales for you while giving your customers something fun and exciting to look forward to.
Create An Automated Campaign to Invite Leads to Schedule at a Discounted Rate-Add an offer for clients who have yet to schedule at a discounted rate. This can help bring in leads who have yet to schedule with your business.
Plan Your Reopening Event-If you are closed during this time, plan your comeback. Use this time to keep customers updated and get them excited for your reopening.