We encourage you to keep in touch with your clients during this time. Communication is critical in order to keep a relationship with your clients. If you have noticed a drop in clients, you are not alone. Small businesses everywhere are impacted by societal changes happening. In our digital world and with the features of Thryv, it is easier than ever to stay connected to your customers. That way they will come back to you when this is over and we can all resume our normal day to day life and business. We have put together some ideas on how to exactly use Thryv to communicate with your clients. Using these tips will help you build a bond with your clients and you will be more on top of mind when it comes to them needing your services or products.
Do not be afraid to over-communicate to your clients during this time. Normally you would not want to send too many emails or post too much on social media, but nowadays there is so much uncertainty going on that people WANT to hear from you. They want to keep up with businesses and know if they are open, closed, how they can support you and your business. There is a strong movement in society right now wanting to keep small businesses alive.
Email Announcements
An email marketing announcements to your whole client list is the best place to start. Let them know if you are open, closed, or have limited hours. Let them know how they can keep doing business with you. Offer discounts or deals for them to keep engaging with your business. Giving a percentage off of buying a gift card is a good way to keep business. That way the client can use the gift card when they feel comfortable.
You can also provide them with useful information about how to handle staying at home and social distancing. Add in some advice on handwashing or regulations that the CDC recommends for them to be safe. Advise your clients to stay home if they are sick and you will be there for them when they need you. This will show your clients that you care about them.
Follow this link to learn how to send an announcement:

The email below is a great example of a business explaining to their clients how their business is handling coronavirus. They tell the customer that their safety and health matters to them and gives them examples of what they are doing to make sure they feel comfortable still doing business with them.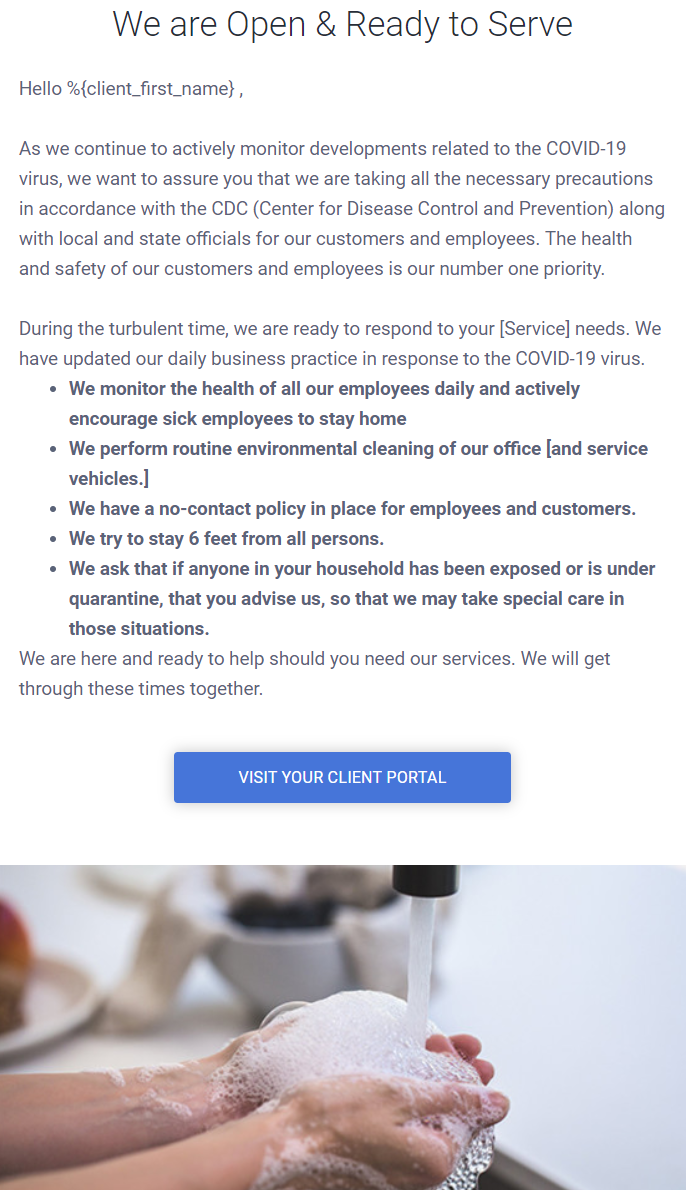 Social Media
While email is a great place to start, don't forget to use your social media pages for any updates about your business or to keep in contact with your clients. Use these platforms to engage with your clients about what is going on.
Everyone is getting some of the same messages from businesses that are needed and make customers feel cared about. BUT, use these platforms to engage with your clients in a more personable way. Most people are at home and social media is their only outlet so do not feel afraid to post something light-hearted, funny or just some positive messages out for your customers.
Do not forget to turn on your social media messaging. With the uncertainty of business hours and closing for small businesses, increase your availability online for your customers.
Follow this link to learn more about how to post to all your social networks at once with Thryv:

This is a great example of a business that has to close for now due to the restrictions making them not able to do their services and they are promoting positivity. They are trying to reach their community to follow the guidelines and make sure everyone is healthy and being safe.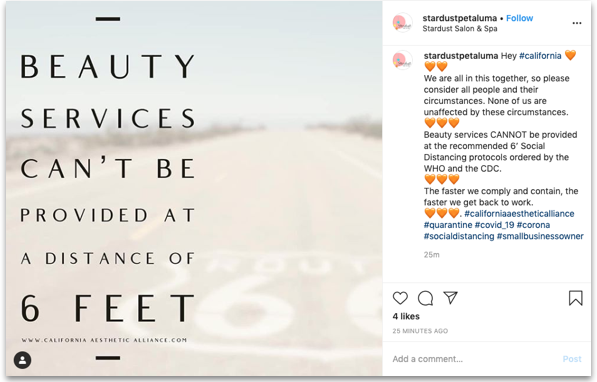 Here is an example of how a small business is using social media to communicate how clients can still do business with them.