Thryv Mobile Documents now allows you to manage your documents, share with clients, request a document, and download any documents received for review.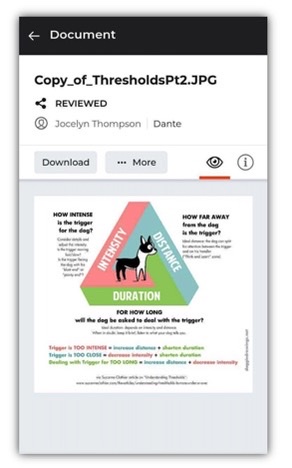 Request a Document
We understand how important it is to get the documents you need in a timely manner. Having the ability to request a document from one of your clients helps to keep your business running smoothly. In the below video, we show you just how simple it can be to request a document using an existing contact from your Customer Relationship Management (Clients) section of your Thryv Mobile App.
From your Thryv Mobile App, choose Documents.
In the top right corner, select the tri-dots to open the Request a Document function.
Choose a client, or quick-add a client using the + sign.
Select Continue.
Click on any of the freeform text fields to customize your message.
Hit Send.
Add a Document/Share a Document
With your Thryv Mobile App, you can also share documents you already have, such as catering menus, song lists, release forms & more. In the below video, we walk you through some steps to share a document with one of your customers - or, keep it internal only and only share it with staff members you have input into your CRM.
From your Thryv Mobile App, choose Documents.
Click on the orange bubble to open your clients menu. You can either choose from an existing client, or add a new one using the + sign.
If you already have documents uploaded to your Thryv Software, you will have the option to choose from the drop-down menu. If not, you can upload a new document to share.
Your options here also allow you to make this document available to the client you have selected, or keep it as internal use only.
You can also keep the checkbox (which is checked by default) set up to send an email link to your selected client.
Customize your message.
Click Add.
For even more information on your Thryv Documents feature, check out this article. If you want to ask some questions, you can also do so in our Community. Still need help? We have options!