If you are a user of any of any of Thryv's products capable of communicating with customers through SMS, whether it is through Calls in Command Center, or you have a text-enabled landline in Business Center, it is necessary for you to publish a Privacy Policy and Terms and Conditions for your customers. This isn't a restriction created by Thryv, but rather a legal obligation for businesses who collect customer information and communicate with customers through SMS. It is imposed by all cell phone carriers. You can read more about the organization they have formed to enforce this here. Moreover, with increasing concerns about data breaches and privacy violations, a well-crafted privacy policy not only helps you comply with regulations but also shields your business from potential legal repercussions. By clearly outlining how you collect, use, and protect customer phone numbers, your privacy policy can bolster your reputation and foster lasting customer relationships.


What kind of businesses are required to have a privacy policy/terms and conditions?
Any business who is not a Sole Proprietor (for example, an LLC), must provide a privacy policy and terms and conditions URL to enable SMS
Where should I post my privacy policy/terms?
You must have a dedicated page on your website for both your privacy policy and terms and conditions. For a full guide to adding a page to your website, Click Here.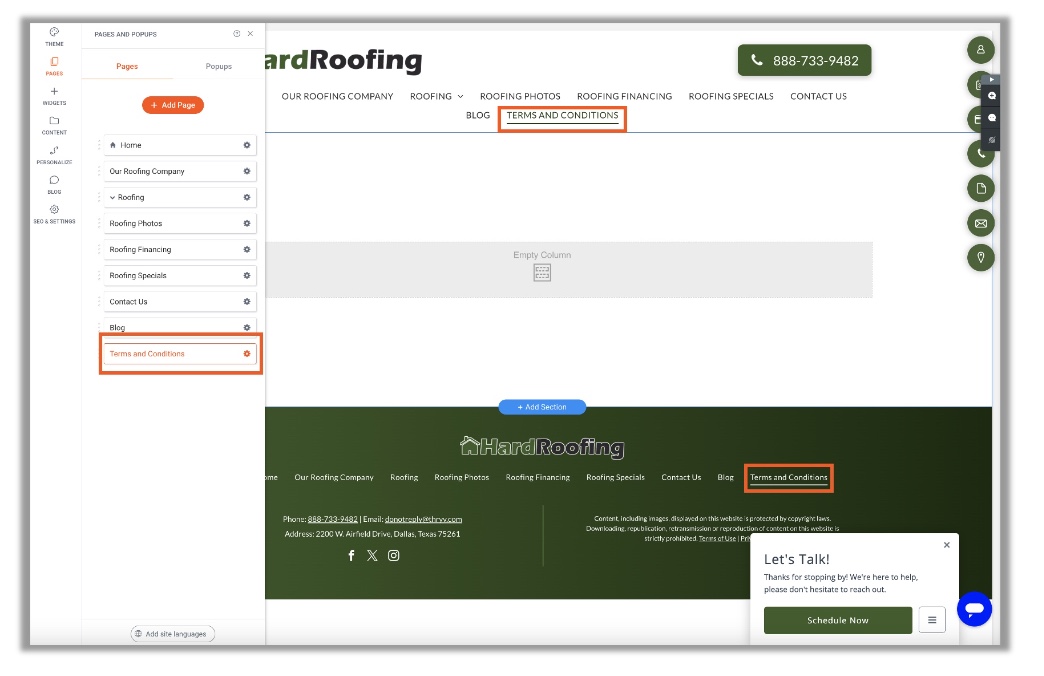 What if I don't have a website?
If you are not a sole proprietor, then it is a requirement to have a website in order to be able to use SMS. It is required to have a website so that you can have posted terms and conditions and a privacy policy. 
What needs to go in my terms & conditions and privacy policy?
Your Privacy Policy needs to make clear to your customers' mobile whether their mobile information will be shared with third parties, and that their information will not be collected unless they opt in.
Example verbiage for Privacy Policy:
No mobile information will be shared with third parties/affiliates for marketing/promotional purposes. All the above categories exclude text messaging originator opt-in data and consent; this information will not be shared with any third parties
Your terms and conditions need to make clear to your customers that they will be able to both opt in and out of receiving SMS messages from your business, and how to do so, and any other effects that could arise from their participation in receiving SMS messages from your business.
Example verbiage for SMS terms:
Customers will opt-in to the campaign by texting keyword (specify keyword here) to the number provided (85100). Message frequency varies. Message and data rates may apply.
For help, reply HELP to any message or call/email (Provide customer support info here)
Reply STOP to any message to opt-out.

It is also a requirement made by cell phone carriers to include the following disclaimer in your terms and conditions:
"Carriers are not liable for delayed or undelivered messages."
The reason for this disclaimer being included is that there is a multitude of reasons why an SMS message may not be delivered, and no cell phone carrier guarantees that all messages will be delivered.

If you have an existing website and need help adding a page for your terms and conditions and privacy policy to it, Click Here

Now that your privacy policy and terms are defined, you're ready to get your customers opted in and start sending them valuable messages. For a guide on how to opt in your customers, Click Here