An important part of your online presence is making sure that your online listings are maintained. With Marketing Center, you no longer have to worry about maintaining your listings on over 70 different sites on at a time! This guide will show you how to edit your listings on our partner sites as well as 4 sites that include enhanced profiles:

Note: This article covers the same Listings Dashboard that can also be found in Thryv. Either path will access the same dashboard
To get started, click on Listings Management on the left-hand navigation bar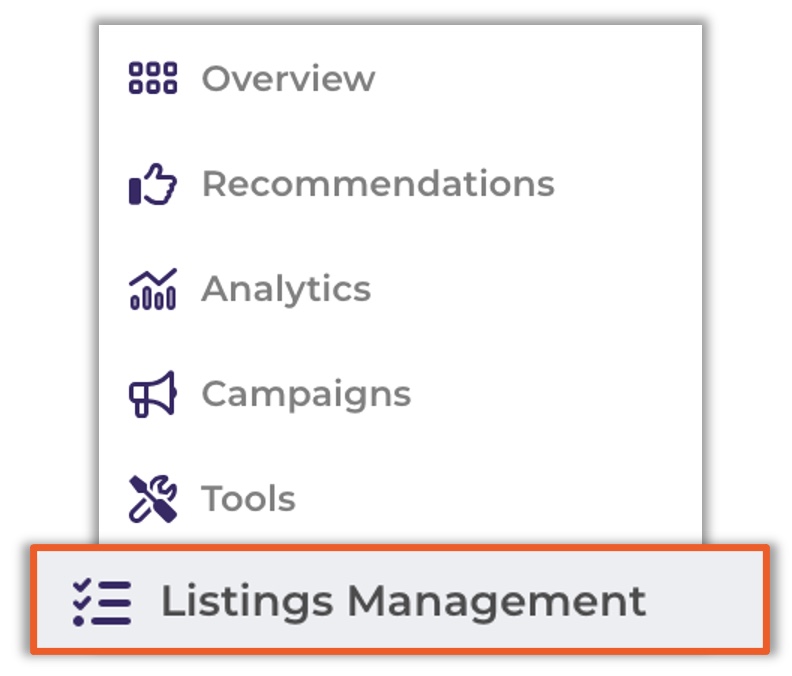 You will be taken to your Listings Management dashboard. In the top section you will see essential information about your business and how many Enhanced Profiles you have active. 
Note: Sites available will vary by location for international partnerships.
Edit Your Listing Profile
To make changes to your listing information, navigate to the top right and click on Manage My Listings
From here, you can fill out or make changes to your Listing Profile.
Thryv provides a convenient tool to measure the overall strength of your listing profile. Let's take a look at how to change this from Bad to Great!

Fill in your Business Name and Description. The limit for a business description is 200 characters, a counter will display in the lower right corner to let you know how many you've used. It is important that the business description gives your customers enough information to know about your business and a best practice is to include keywords that customers might search for. Make sure these keywords fit naturally within the flow of your writing and don't appear jammed together.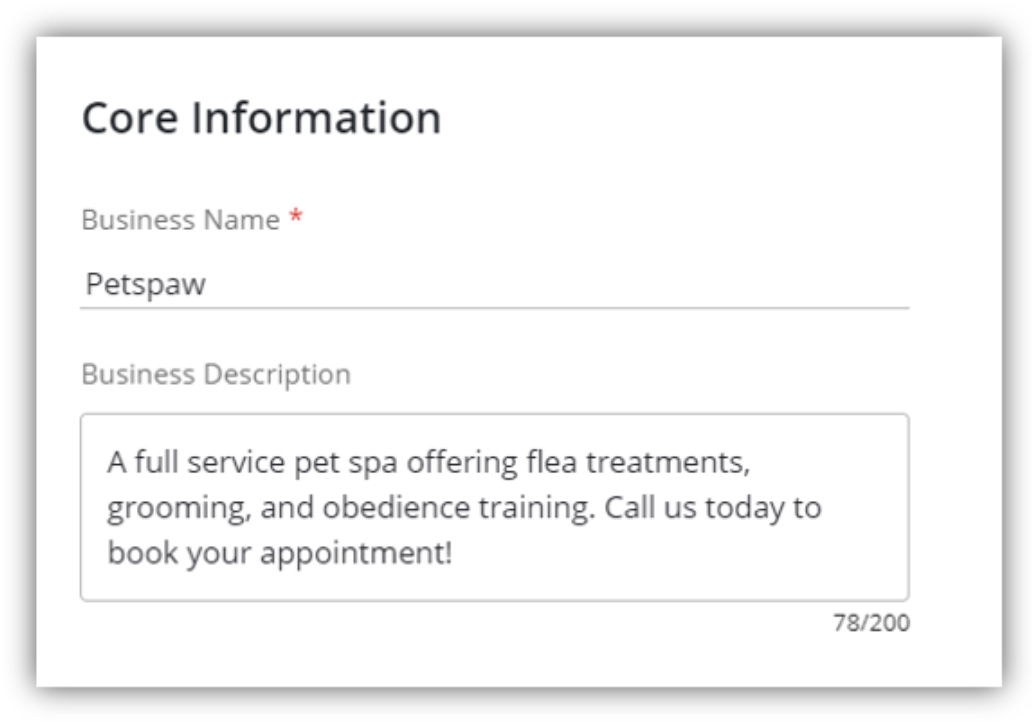 Choose your business Category. All the categories you see listed in Thryv are predetermined to ensure that you're listed correctly across the publisher sites, i.e. Google, Facebook, Yelp, Yahoo, and others. We make updates in accordance with what categories are offered by the publisher sites. We recommend that you pick the category that fits as close to your business as possible. The first category chosen will be yourPrimary Category, and each one chosen after will be listed as a Secondary Category. Most listing sites cut off at 5categories, so make sure you select up to 5, in the order that they are relevant to your business.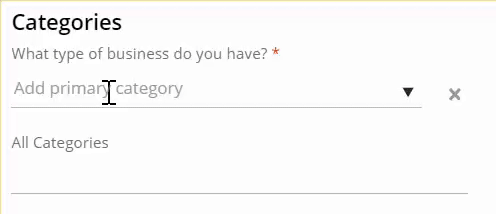 Enter your physical Business Address. It is important that you enter a physical address for your business (not a PO Box). If you don't want your address to show on your listings, you can choose to hide it in Settings>Business Info>Contact Info (Note: If you do this, it is important that you define a Service Area, explained below, so that you can be listed on Google. Google will not list businesses without a physical address or defined service area). 
Enter your Business Phone Number. The phone number you are most likely to answer should be entered in Main Phone. If you have a secondary phone, mobile phone, or fax number, be sure to list those as well. Remember, the more ways you are available to be contacted, the easier it is for customers to get in touch with you!

If you want to enable your customers to contact you by email, enter your email address. Similar to the phone number, make sure it is an email address you check regularly, so that you don't miss out on any potential leads!

For the Featured Message, use the text field to enter your Call To Action.In other words, ask yourself the question, "What do I want my leads to DO when they see my listing?" Then, place the link to your client portal or appointment scheduler in the URL field to enable your clients to take that action. To grab the link to your client portal or scheduler, navigate to Client Portal>Create Direct Links, and select the link you would like to be your call to action. For this example we used the online scheduler.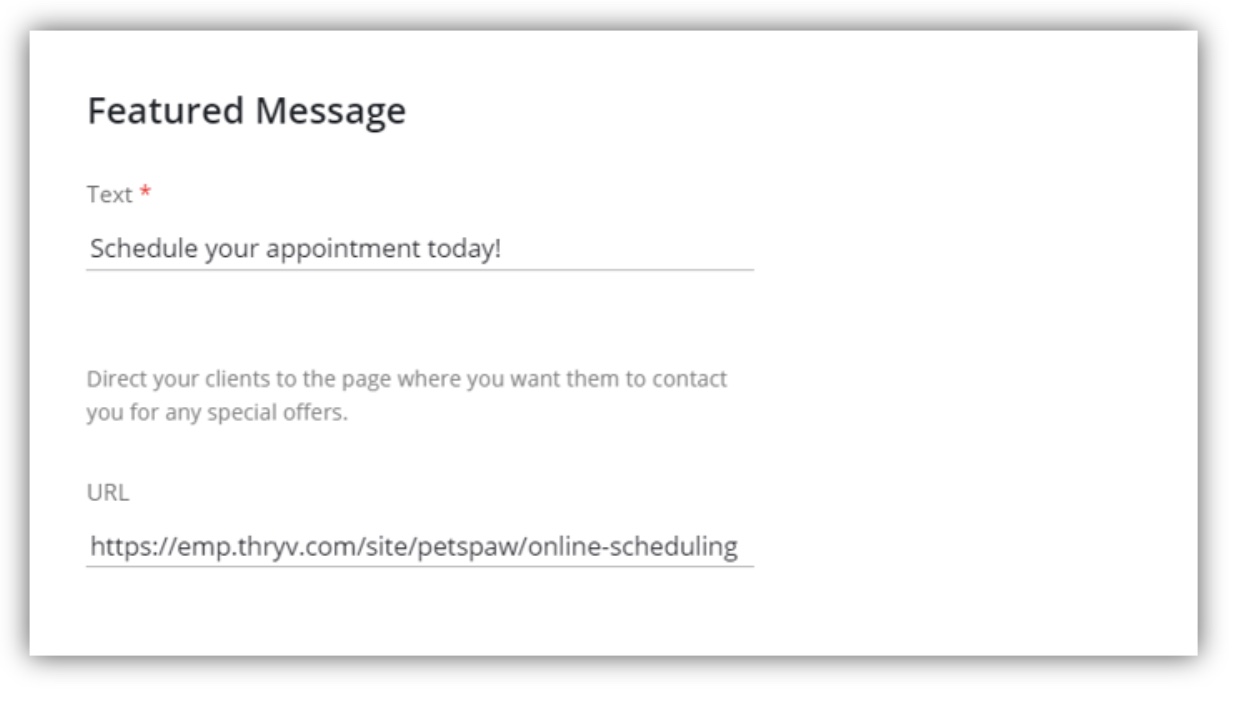 Enter your Business Hours. It is important to have accurate hours because search engines will display your business as Open during your hours and Closed outside of your hours. You can also use Add More Holiday Hours to edit your hours only on specific days you might have different hours.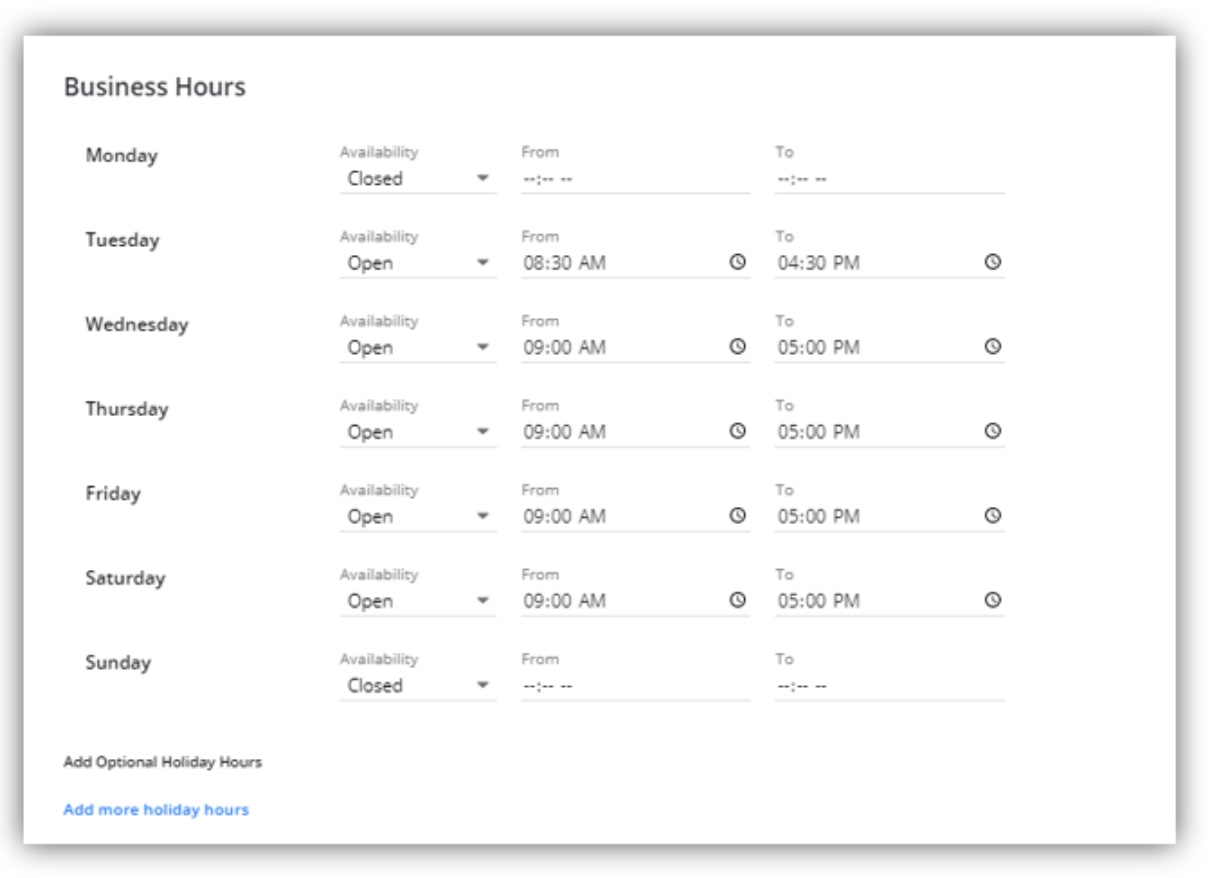 Next, define your Service Area. If you hid your business address above, this step is vital.Google will not list a business without a physical address or a service area. If you opt for a service area instead of a physical address, then your Google listing will show a red outline of the area defined instead of a pin on the map. If you have a type of business where your customers come to you, this step is not necessary.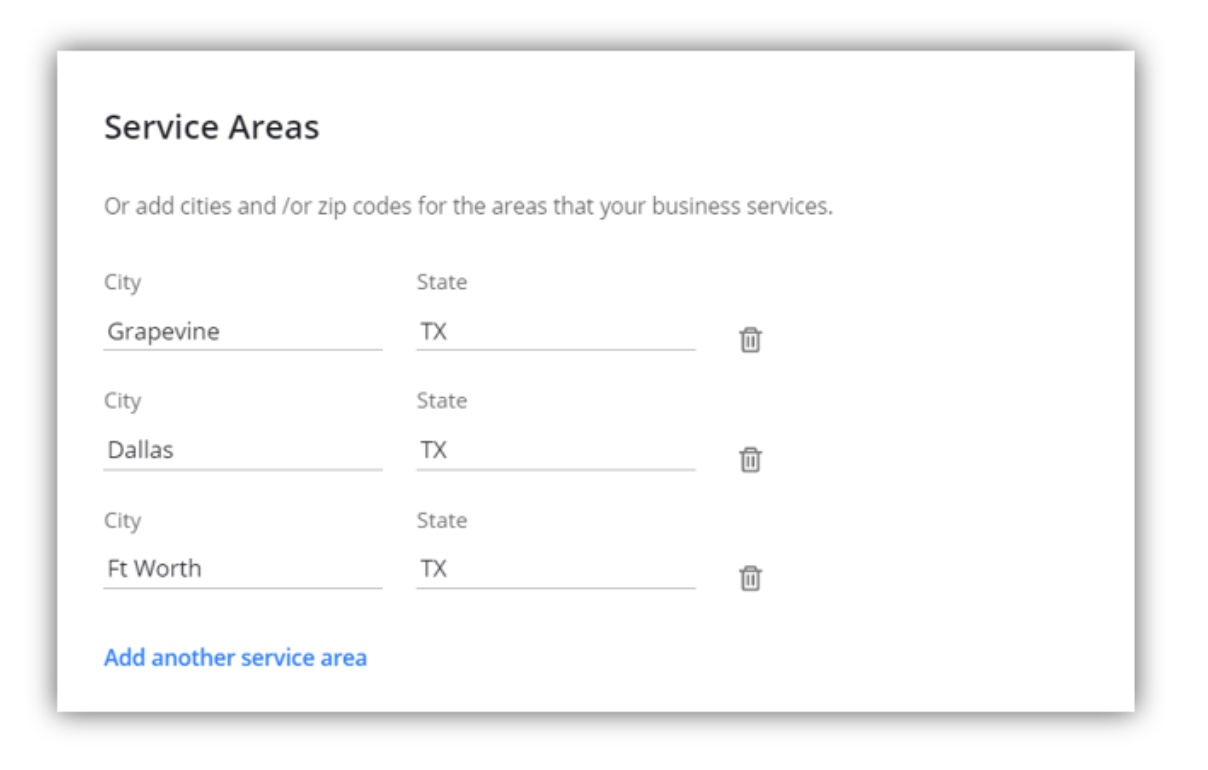 Check all methods of Payments that apply. Remember, more information on your listing is always better, and being easier to do business with increases your chance of getting the job. Are you looking for a payment method that is more convenient for your customers? Click Hereto check out ThryvPay!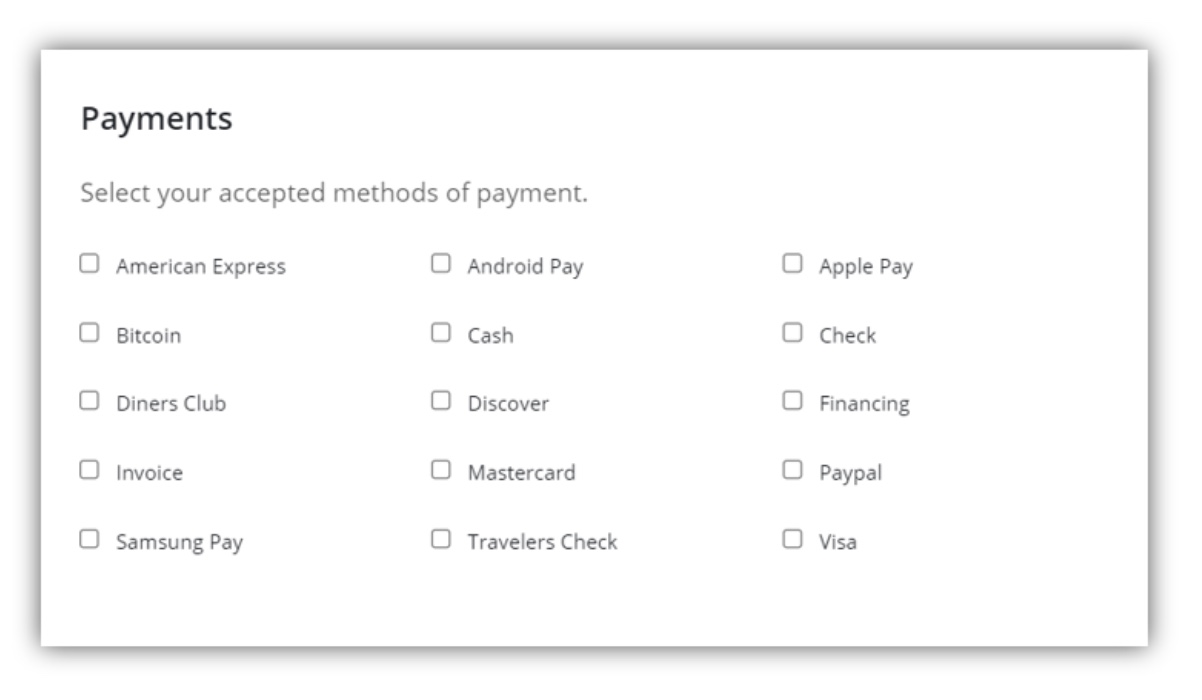 Enter all appropriateURLs next. Enter your Main Website URL, and then any appropriate call to action links below. Remember to be as specific as possible with your links. For example in the Reservations field, Navigate toClient Portal>Create Direct Links and select Schedule Appointment. This means your leads will be just one click away from setting up an appointment with you.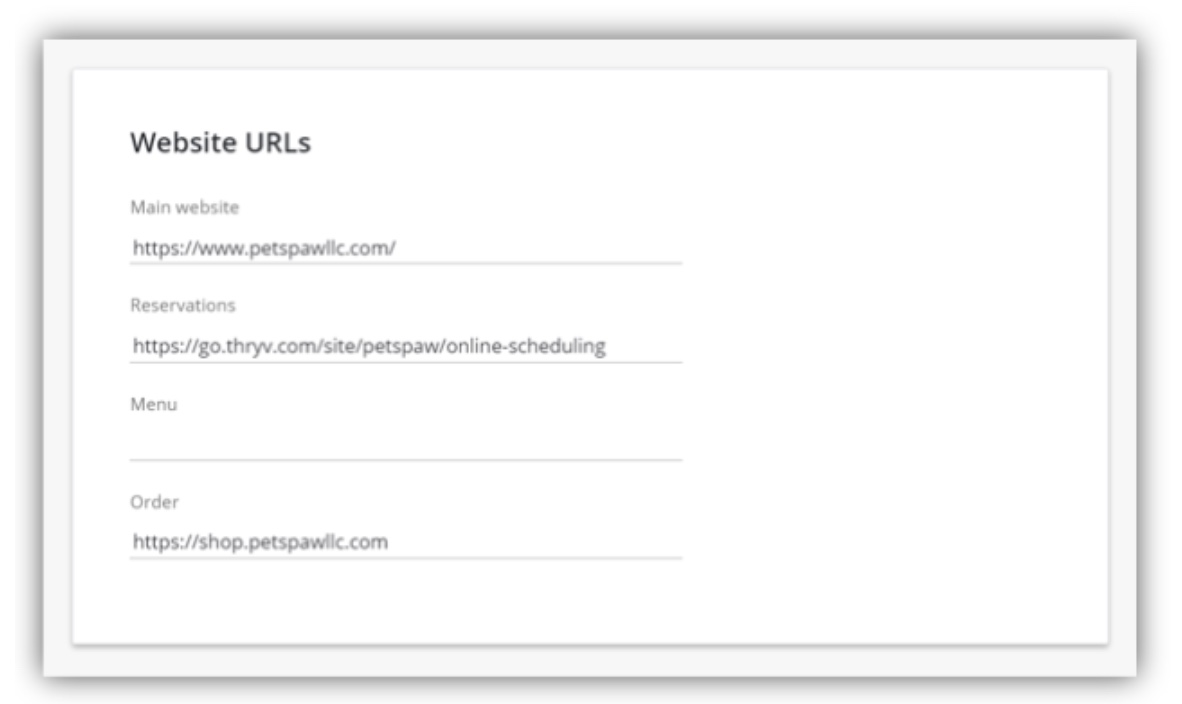 Next, enter the links to all of your social media accounts. Make sure the names and information on these social accounts match your listing profile to increase Google's confidence in your listing to rank better.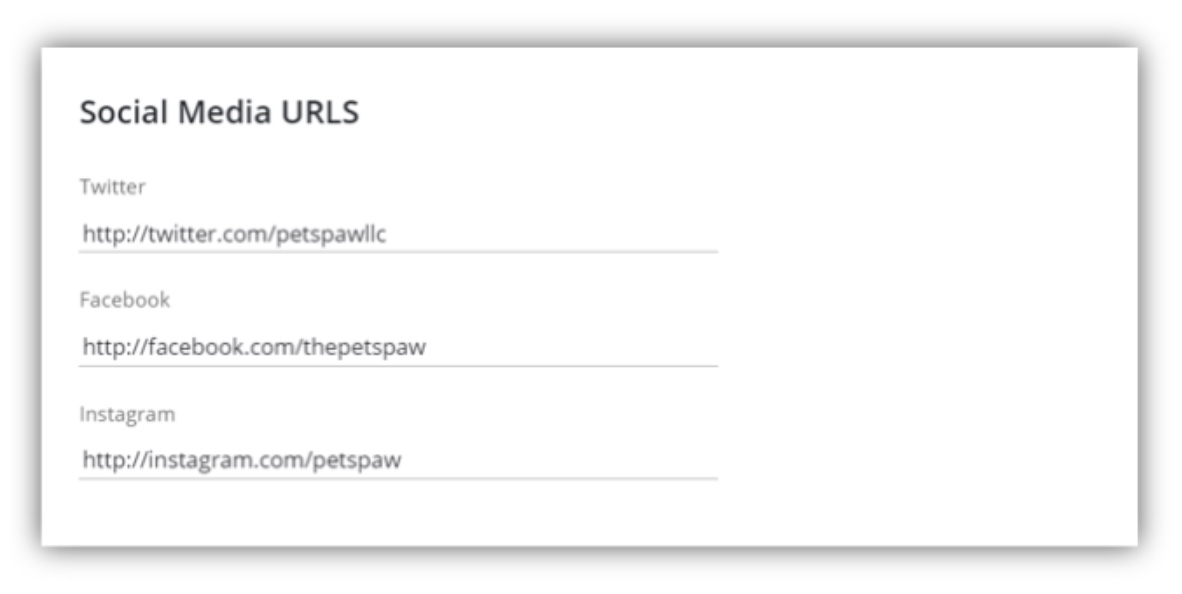 Pictures are one of the most important ways for your listings to gain exposure. Having relevant pictures on your listings is a huge advantage over listings with no pictures. Make sure you post appealing photos that will create trust in your brand. Like before, more photos is always better!
Adding pictures to the Photo Gallery will add your photos to all partner sites that allow them. To add a photo, click on the + icon. You will be brought to your device's files. Select up to 8 photos (and be sure to come back and update them frequently!)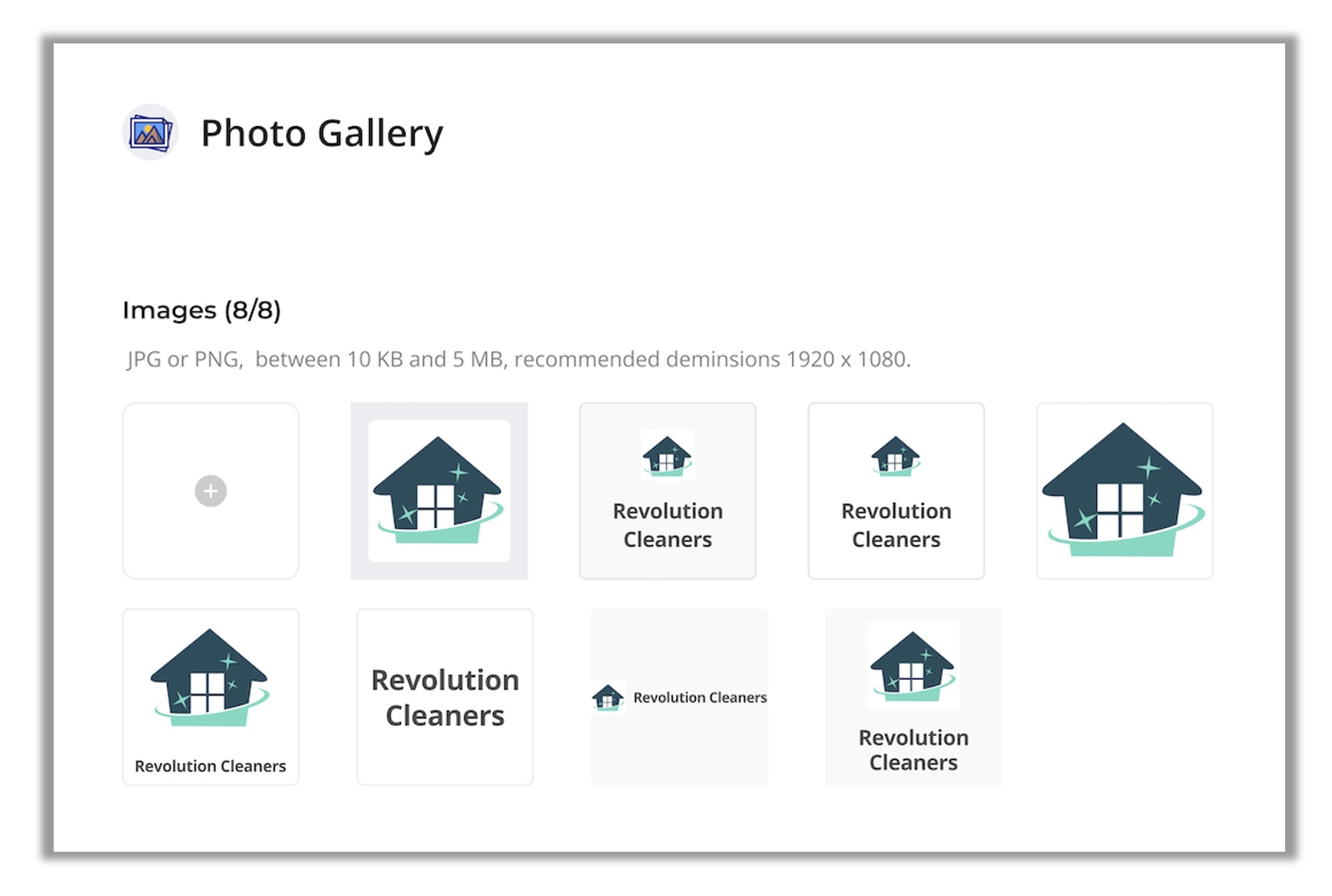 In addition, set your Profile Picture and Cover Photo for Google My Business and Facebook.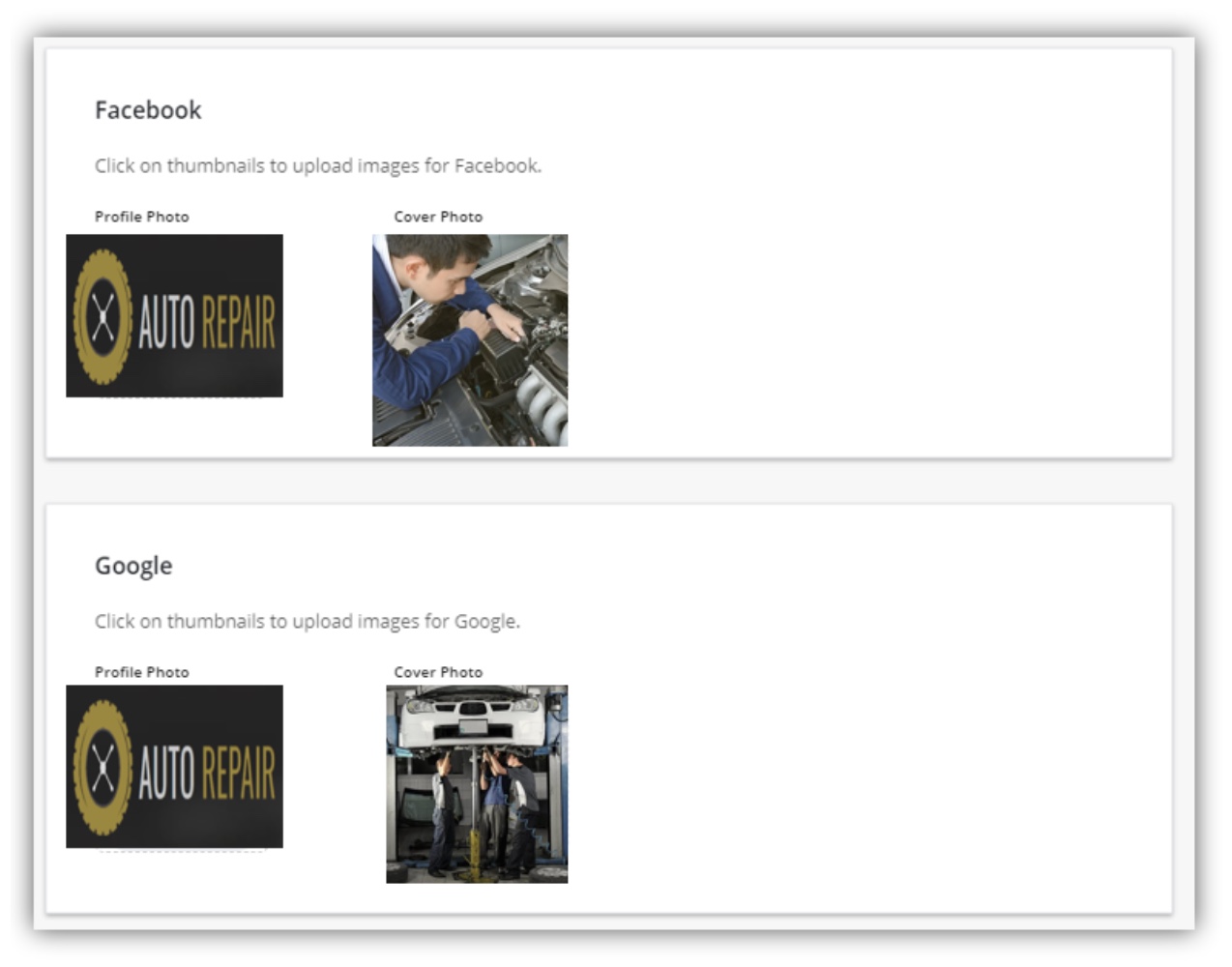 That may have been quite a bit of work, but rest assured it was well worth it. By following this guide, your business's image on over 70+ sites has drastically improved. Want to do even better? Go to Yext Advanced in the App Marketplace to add pictures and more detailed listing information

Your Enhanced Profiles
Below your listings profile, you will also see your enhanced profiles. To activate an enhanced profile, set the toggle to On. This publishes your listing to that site. All enhanced profiles can be toggled individually.
Enhanced profiles also include a Call Tracking Number. This is a unique number that is only published on YP.com. Calls route directly to your business phone, but the calls are also tracked in your Analytics tab, allowing you to measure the success of your listing. You can also click on Get New Number to create a different tracking number. Your analytics will be preserved and calls will continue to route to your business phone.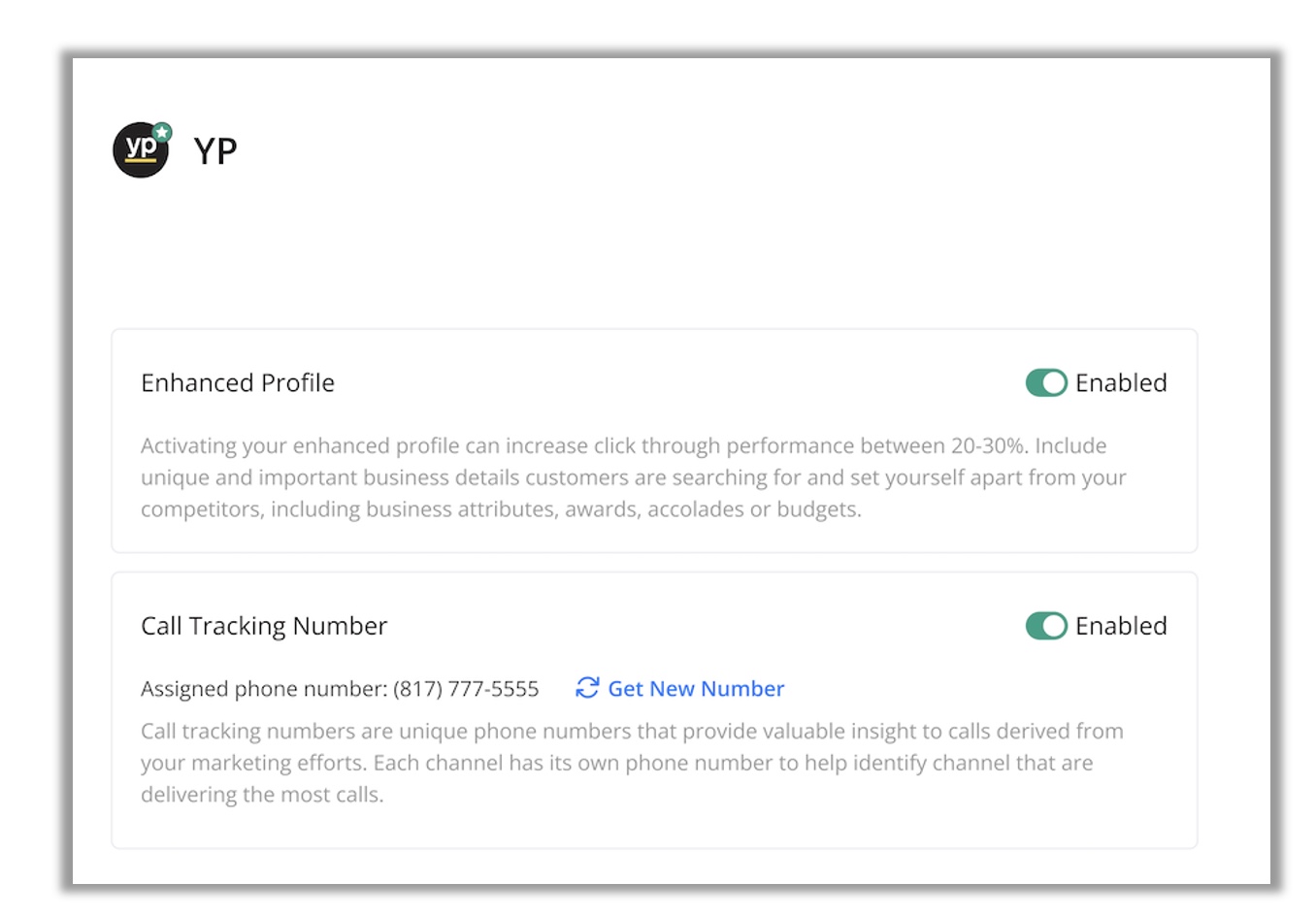 A Yelp Branded Profile comes with attributes. These are additional labels that can be added to your listing to help your business stand out. They are also searchable and able to be filtered by users on Yelp. Select at least 2, but no more than 6 attributes to add to your profile.