Make it easy for your customers to sign that important contract by using e-signatures in Thryv! This guide will show you how to send documents to your clients for signatures, as well as sign them yourself!
Create A New Signature Request
First, navigate to Signatures and select New Signature Request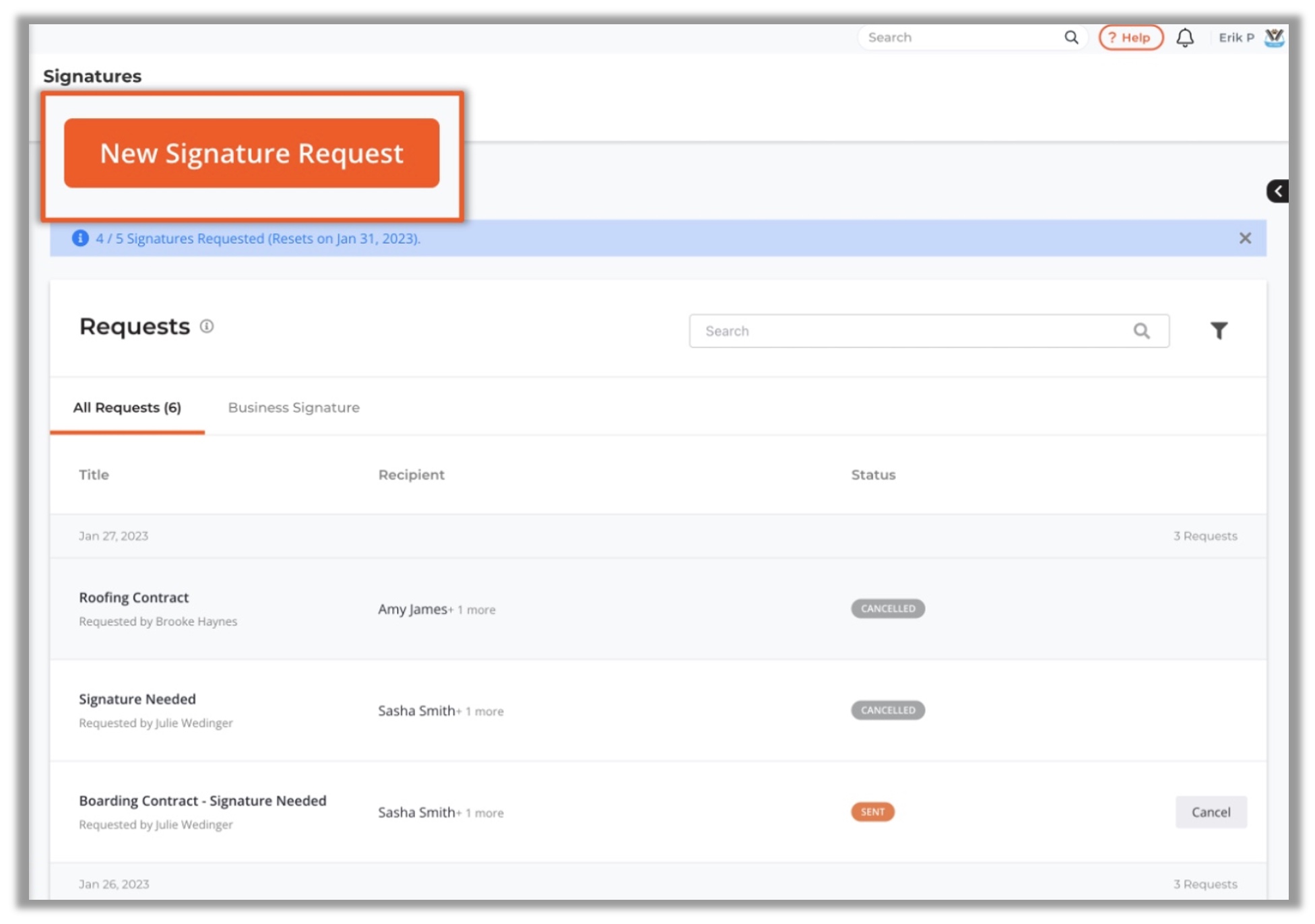 You are able to save a document to use as a template for signatures. This can save time if you have a standard document you send for multiple jobs or clients. If you don't have any templates saved, you can click on Add New to start a new one. You will receive the option at the end to save this document as a template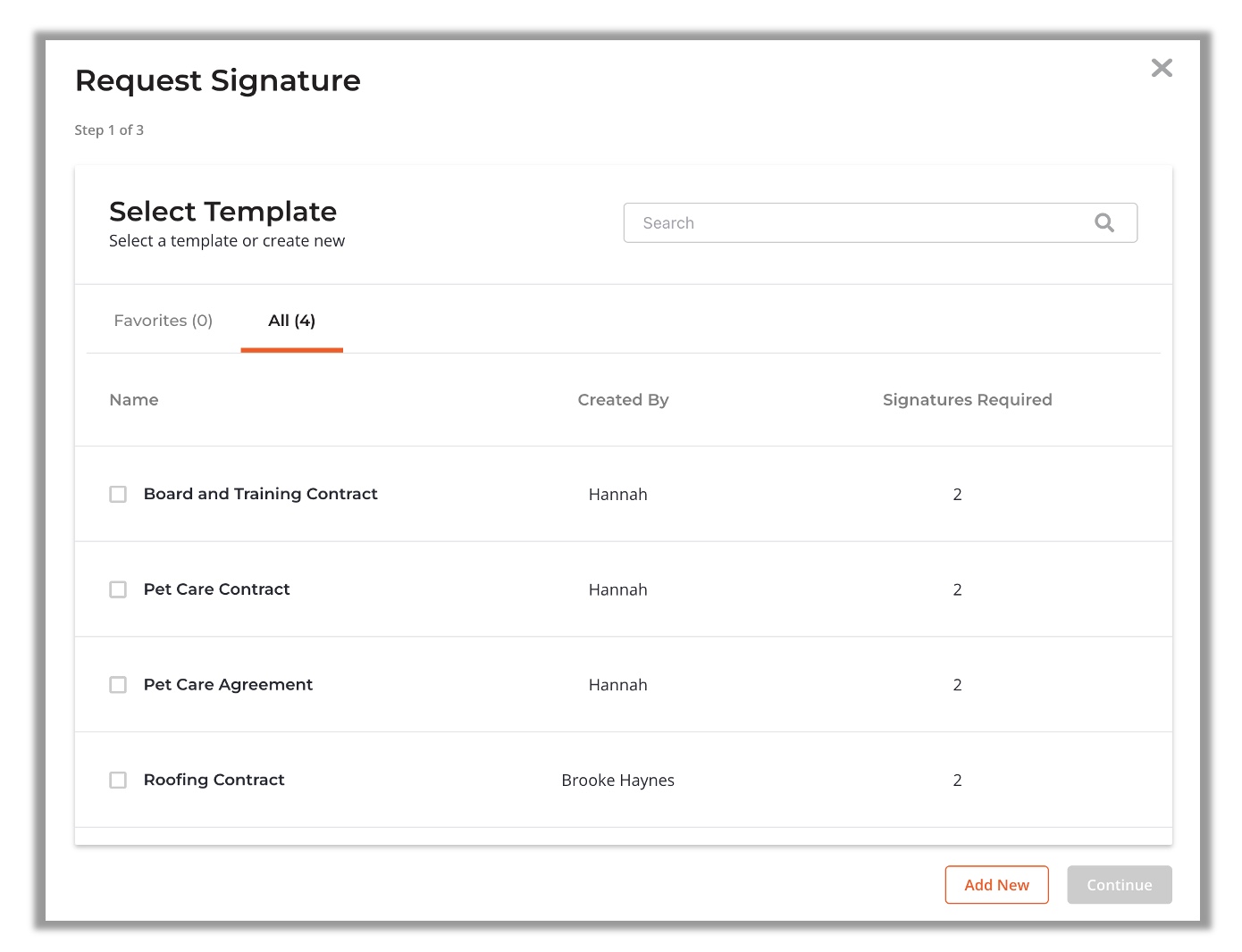 Selecting Add New will bring up the files on your device. From there, select your document, then proceed to the next step. NOTE: If the document selected is password protected, it will not load. Signatures does not support password-protected documents.
Select a channel to send your document. Use the checkboxes to select email, text message, or both.
Note: If text message is selected, but the customer's phone number is unavailable, then the request will be sent by email automatically.

Add A Message and Subject Line to your Signature Request
Once you make a selection, fields will appear to add a message for your client, set your email subject line, and give a title to your document. Note that this title will be the file name when your customer downloads the document. Once you have entered the information, click on Continue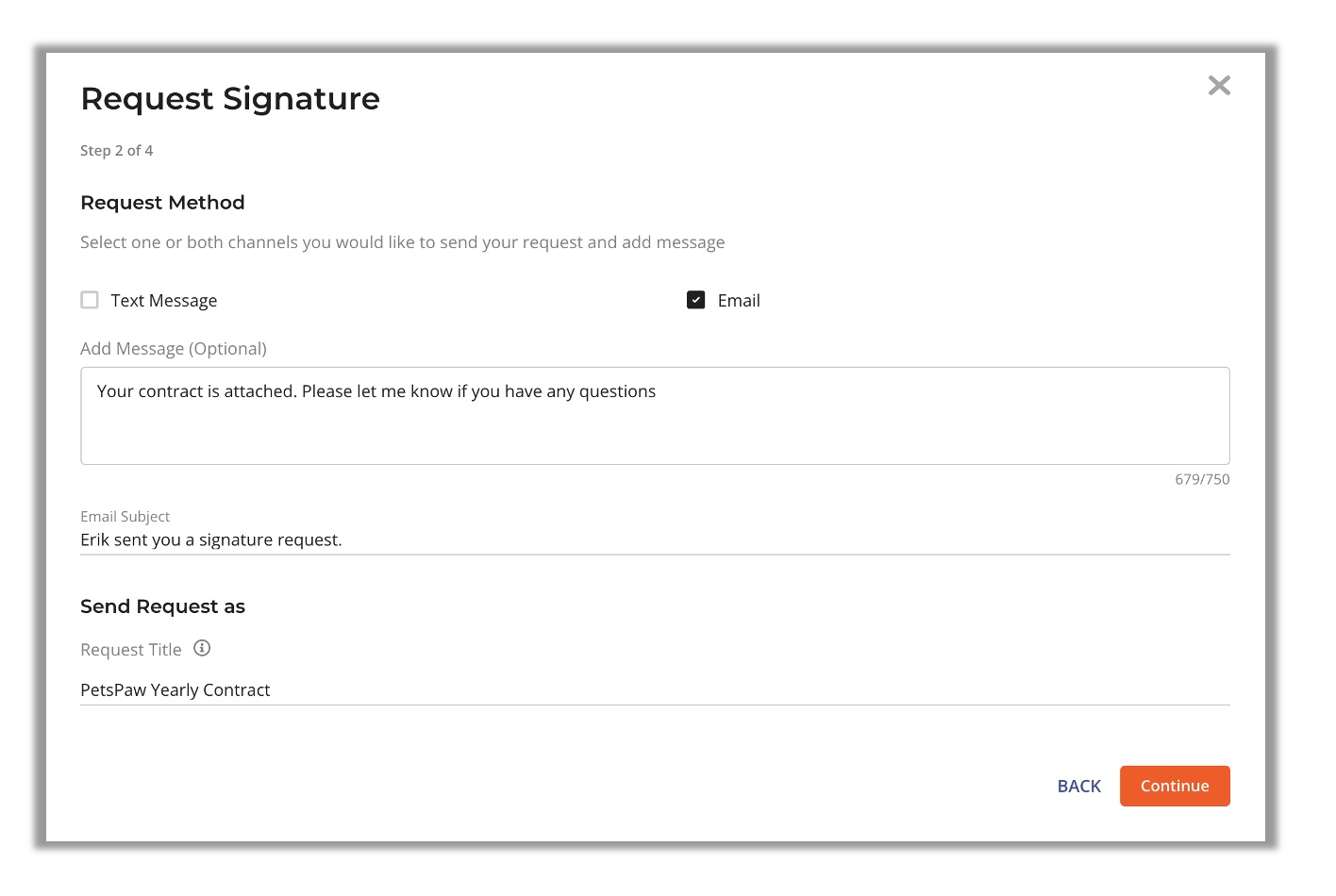 In the next screen, start by selecting which client to send the request to. Click on the Clients drop-down and select the customer(s) you would like to send the request to.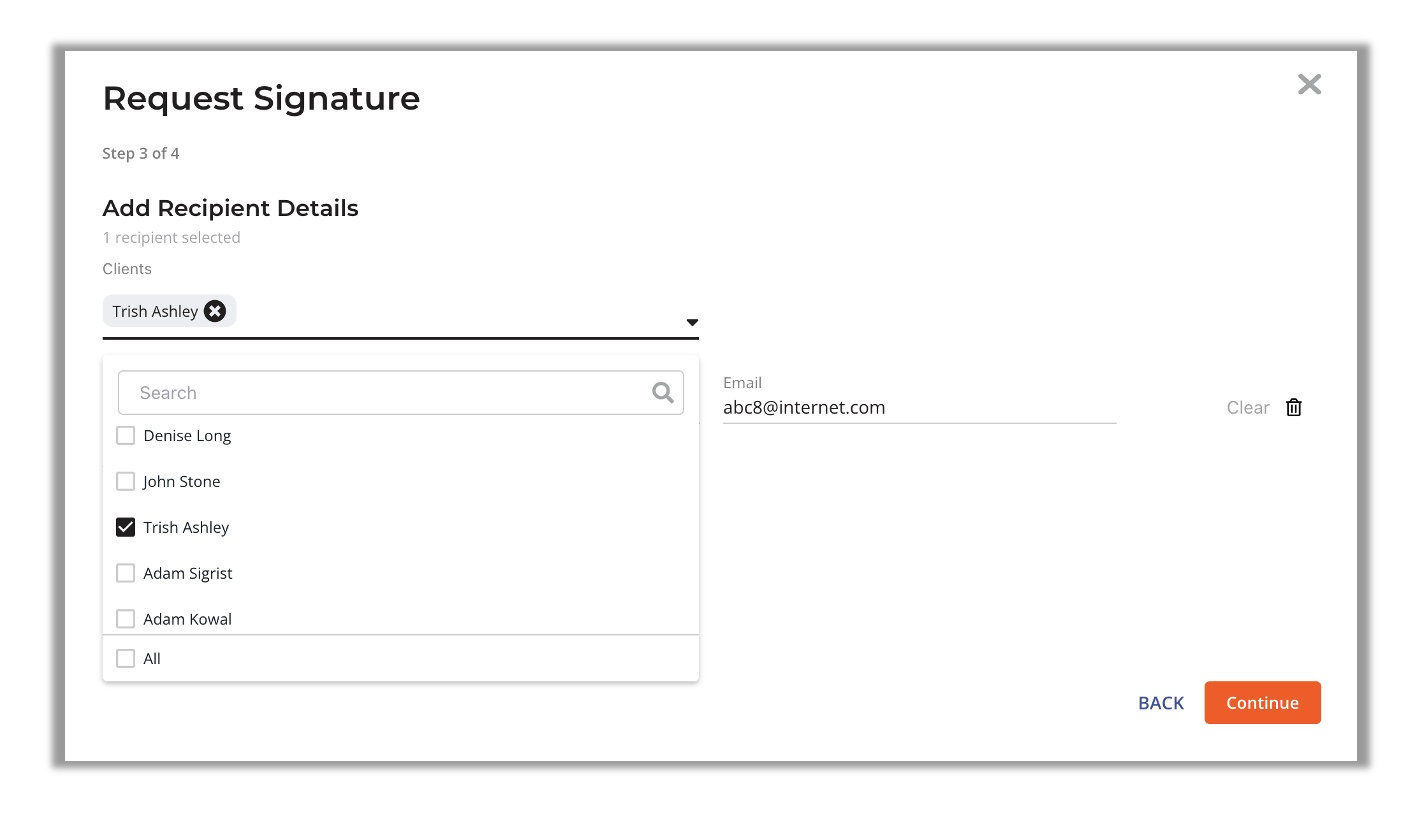 Once you've selected your client, they will appear on the signer list. From here, you also can add a recipient who is not a contact in your Thryv software, by clicking Add Recipient Manually. You will be prompted to enter their name and email address. Or, if you don't have their email address, click on Switch To Mobile to enter their phone number instead.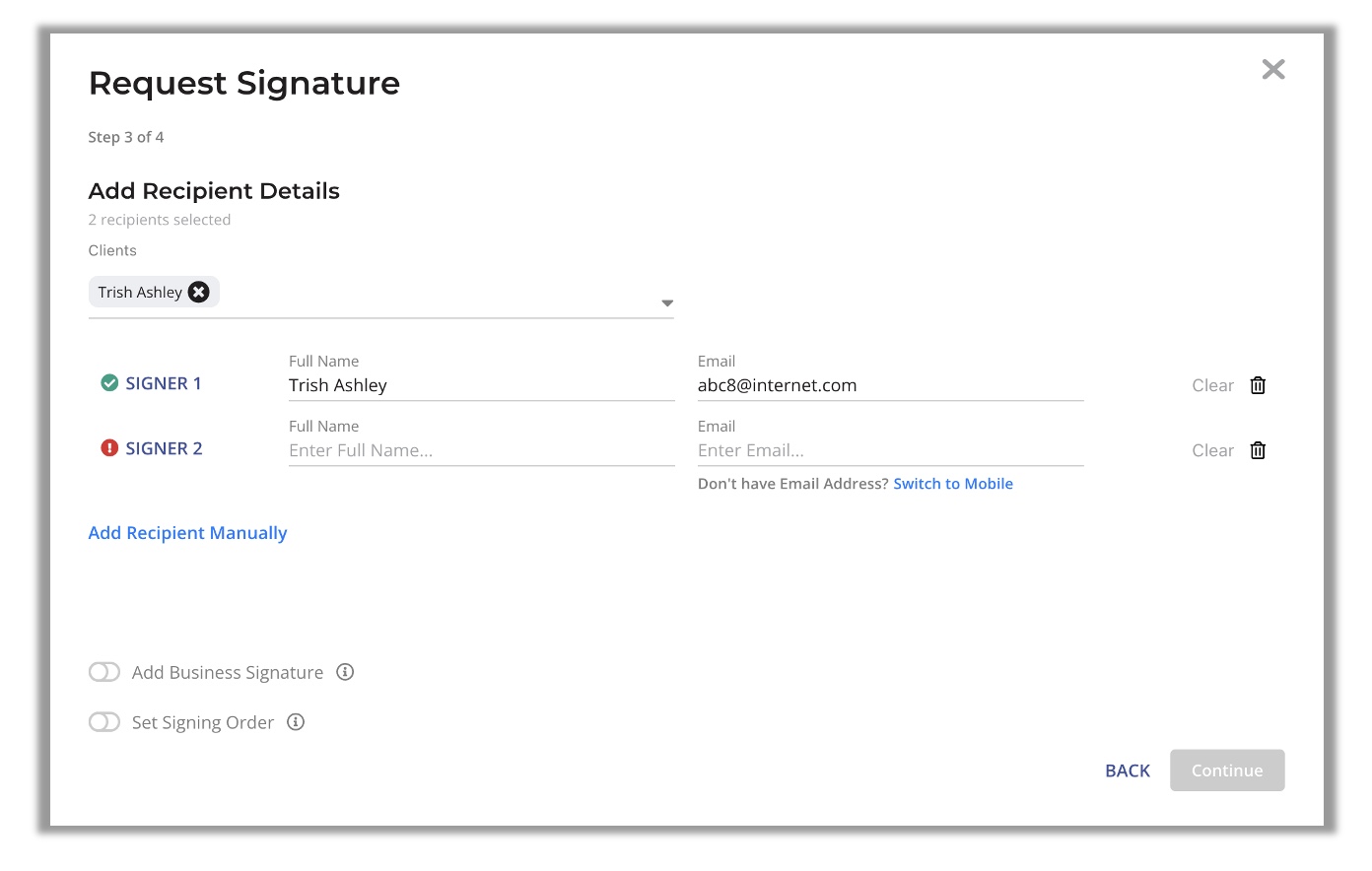 Add Business Signature To Document
If a signature is required from you or your staff as well, set the toggle for Add Business Signature to on. This will require a signature from you or one of your staff before the document is considered approved. Once selected, select your staff member who will be signing from the drop-down that appears.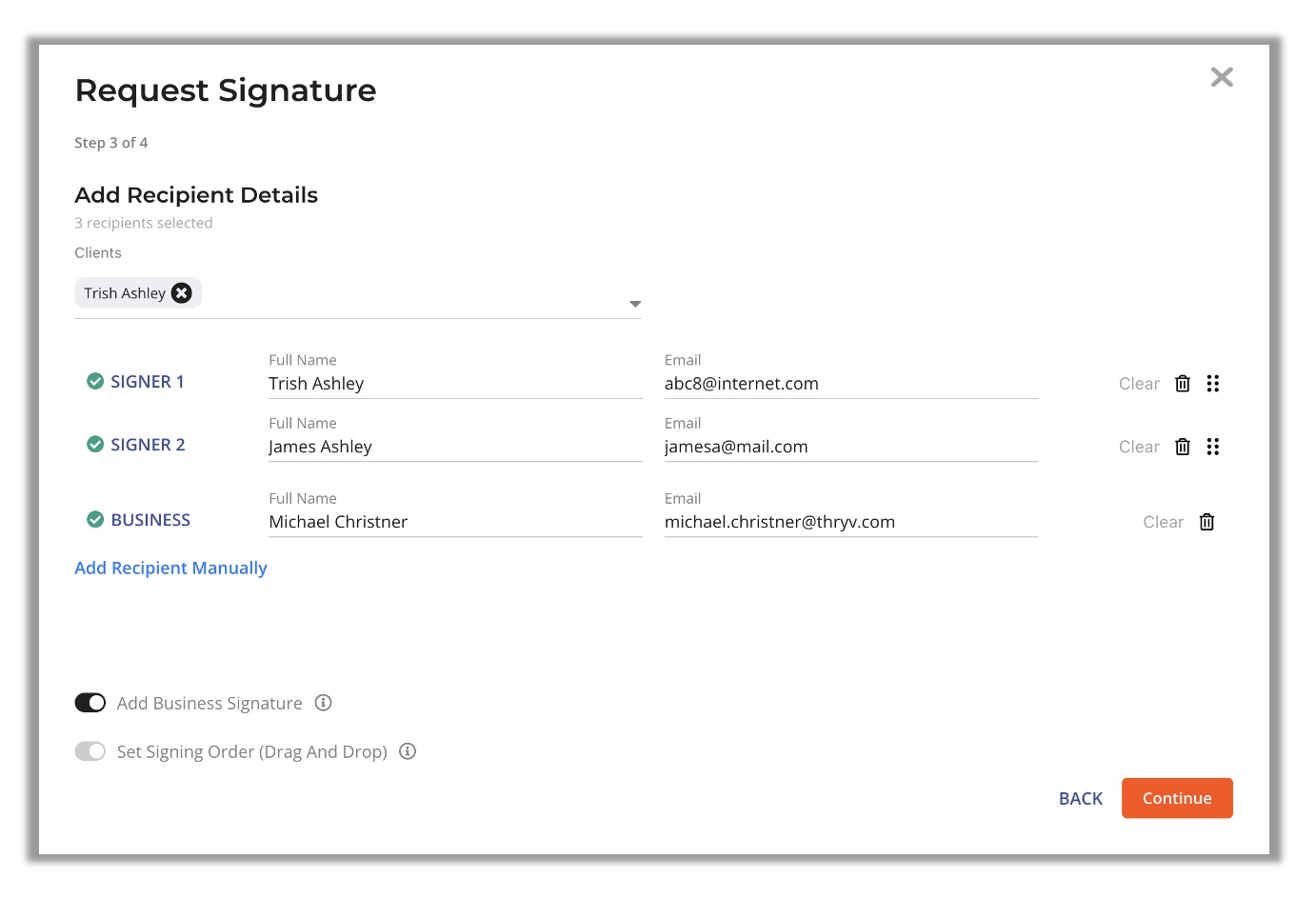 Set a Specific Signing Order
If the document needs to be signed in a particular order, set the toggle for Set Signing Order to on. Handlebars will appear on the right hand side of each signer. Click and hold each handlebar and drag and drop to change the order the document will be signed in.
Note: If a business signature is required, this toggle will automatically turn on, as the business must sign the document after the client.
If a specific signing order is set, the document will be sent only to the first client on the list. When that client signs the document, it will be sent to the next client on the list, and so on until it is signed by all signers on the list.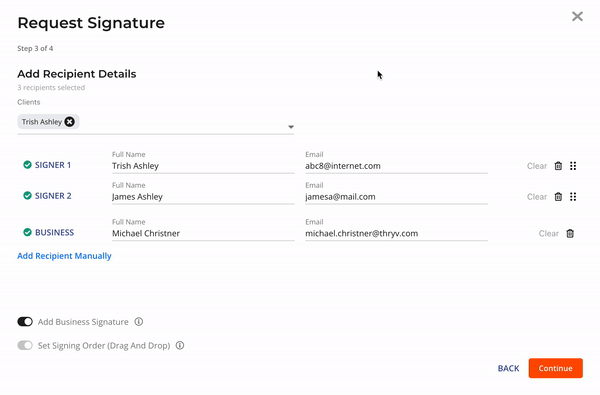 Once you have added all signers and set the signing order if necessary, click on Continue
Save A New Signature Template
On the final screen that appears, use the checkboxes if you would like to save this document as a template for future signatures, and add it to your favorite templates. Once you have made your selections, click on Continue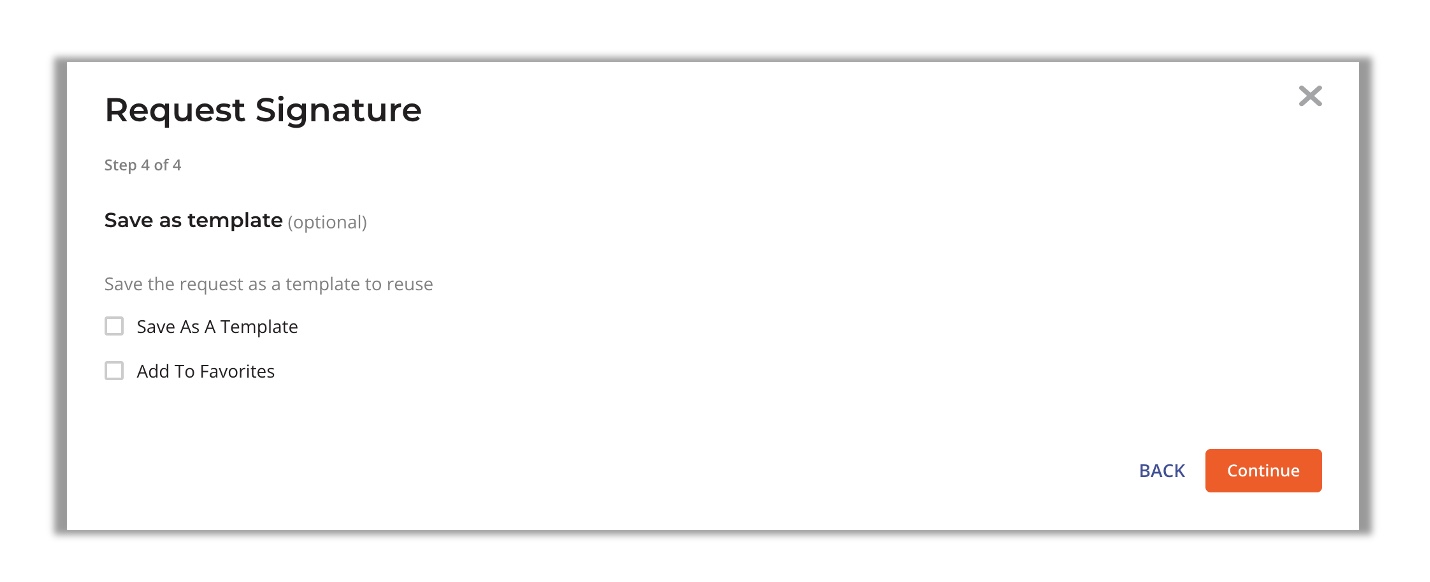 Add Signature Fields to your Document
This will take you to the document editor, where you can add the signature fields to your document. To add a field, simply click and drag it from the left hand side to the exact place you want it to appear on your document.
Each field is specific to each signer, which can be toggled with the drop-down in the top left corner.
Field types:
Signature fields - to be filled in by your customer
Auto-fill fields - these will auto fill for each document based on the information on the client card
Standard fields - miscellaneous fields that can be added to any document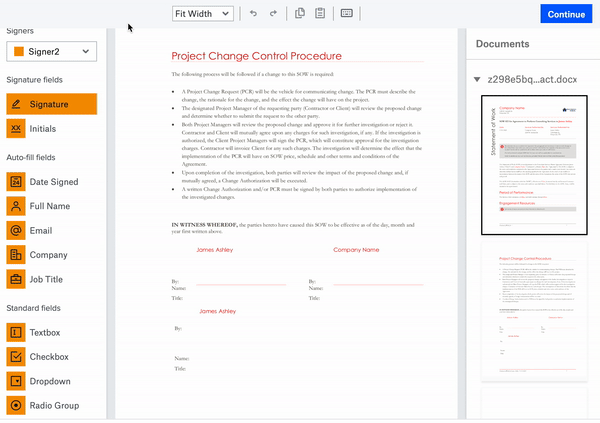 Signature Document Editor
Once you have the fields added to your document, use the controls on the right hand side to edit them in the following ways:
Reassign the field to a different signer
Mark the field as required
Change the font type and size
Rename the field
Once you have added the fields necessary to the document, click on Continue in the top right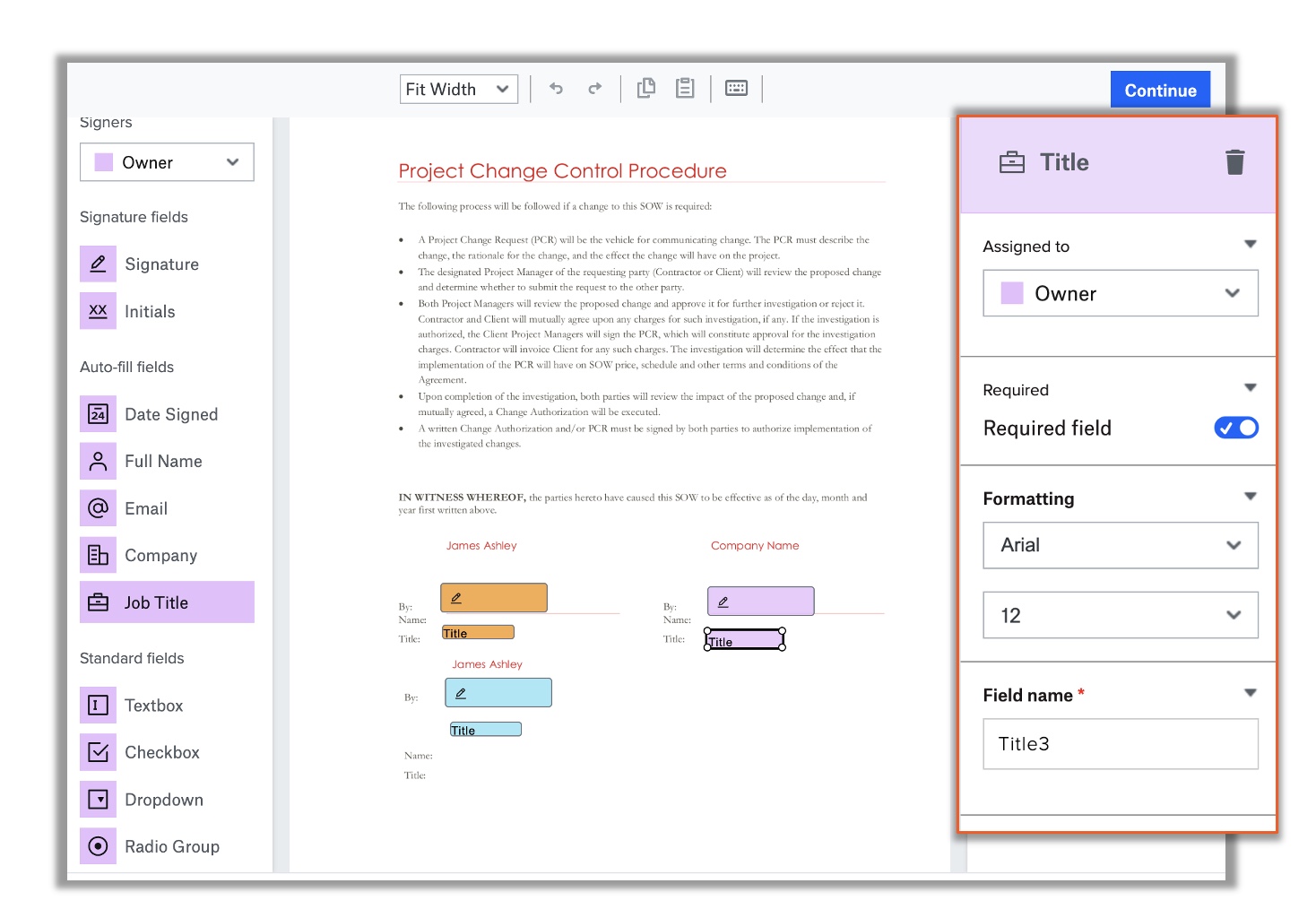 The document will be sent to your signers, and a confirmation screen will appear. You can click on Done.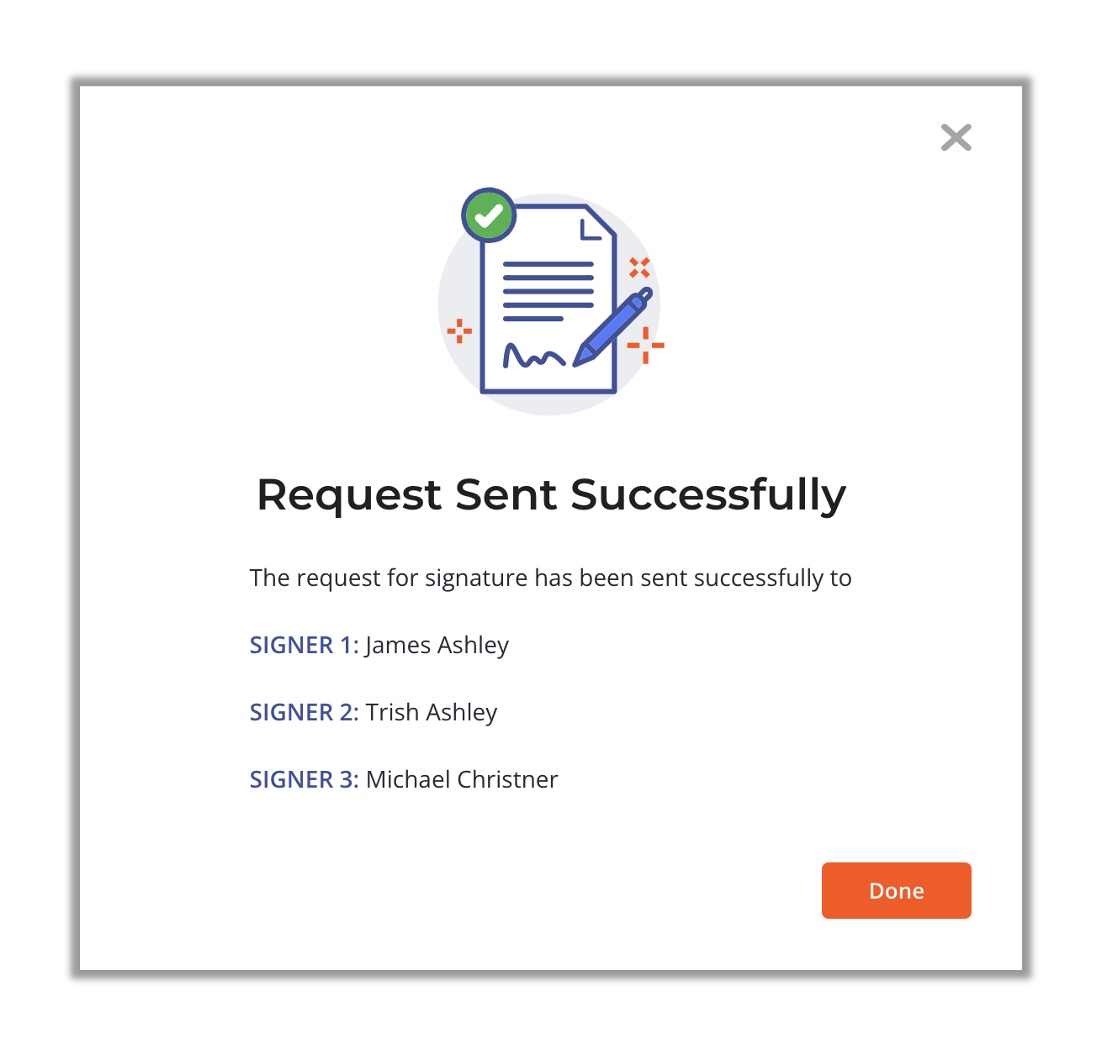 The document will appear as "sent" in your signature request dashboard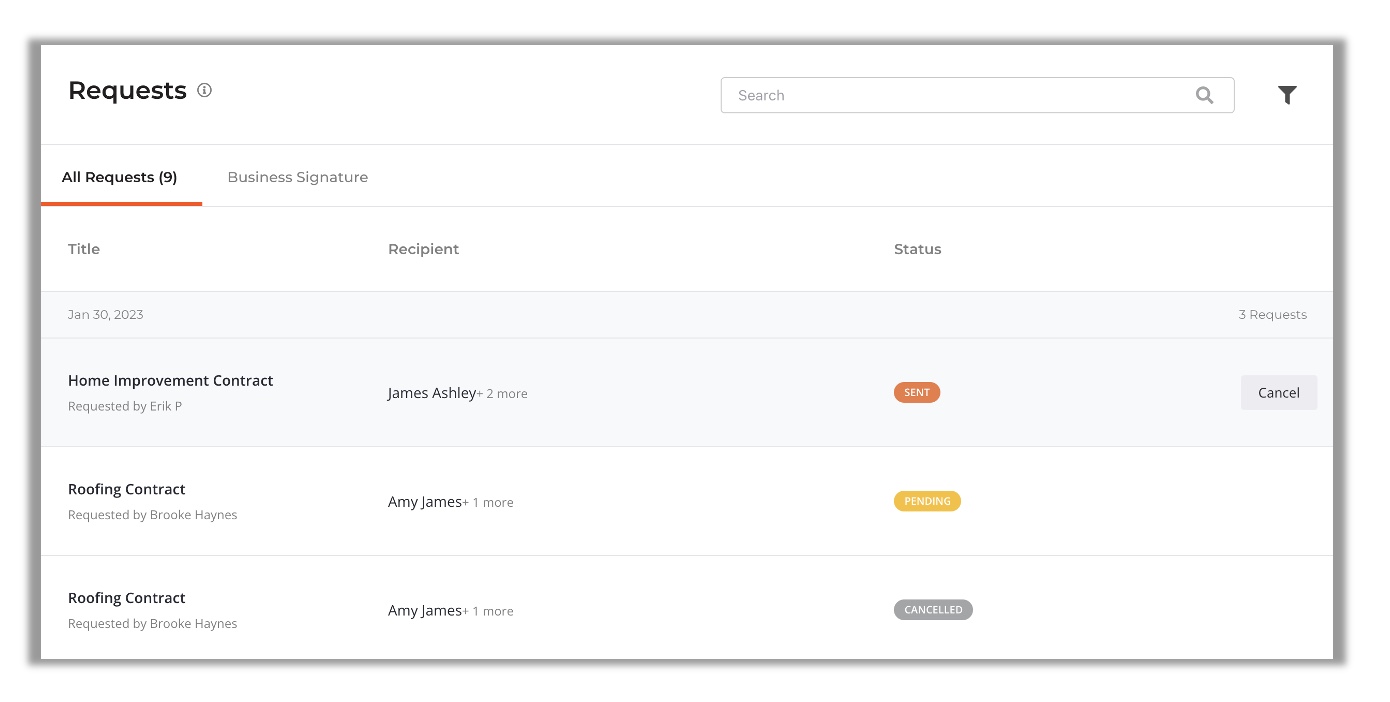 If you need a guide to managing your signature requests, Click Here